BIG Pitch Winners
The BIG Pitch is awarded to an undergraduate or graduate solution that improves economies, health, and the environment. The award is sponsored by Georgia Southern University.
---
2018 BIG Pitch Winner
Vita Inclinata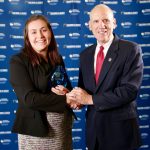 The BIG Pitch Award 2018 sought undergraduate & graduate innovations that improve economies, health, and the environment, fitting under the theme of sustainability.
The winner of the 2018 BIG Pitch Award in the amount of $10,000 USD is Vita Inclinata by a team from Seattle University. Vita Inclinata is a leading developer of chaotic motion control systems, providing counter swing systems to military agencies, private contractors and local governments for improved human safety and operating efficiency.
Allen Amason, Dean of the College of Business at Georgia Southern University, commented after the award was announced.
"Vita's Load Stability System has the potential for huge impact. Certainly they are to be applauded for developing a device that will actually save lives. The pitch was compelling, and they've come a long way already. So, we're happy this award will help them make the next big step in development. We're honored to be a part of such a significant event."
2017 BIG Pitch Winner
Watchtower Robotics
(Formerly Pipeguard Robotics)
You Wu, Jonathan Miller, and Daniel Gomez
MIT
The winner of the 2017 BIG Pitch Award in the amount of $10,000 USD is Pipeguard Robotics by a team from Massachusetts Institute of Technology. The Pipeguard Robotics solution inspects water pipes from the inside using innovations in sensor membranes and the soft body drone to find leaks long before they become catastrophic, with the objective to reduce the 20% of clean water production daily lost to leaks.
Read the full press release announcing the win here. Learn more about Pipeguard's Robot Daisy technology here: http://pipeguardrobotics.com/
BIG Pitch is part of the Business Innovation Group of the Center for Entrepreneurship Learning & Leadership at Georgia Southern University's College of Business Administration.

---
2016 BIG Pitch Winner
Touch Light Innovations
Swarnav Pujari
University of Illinois Urbana-Champaign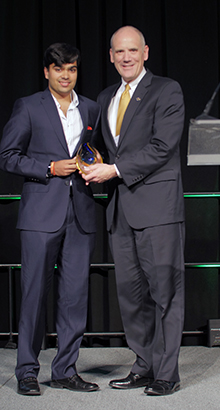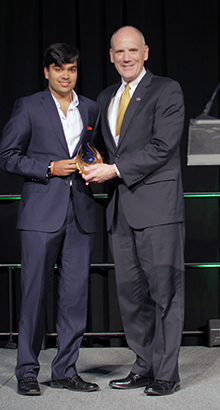 Swarnav Pujari presented Touch Light Innovations' Power Pad device to the BIG Pitch panel and Ocean Exchange attending delegates on Friday, November 11th 2016, and won the $10,000 cash prize.
Touch Light Innovations, a startup from University of Illinois Urbana-Champaign, is pioneering in harvesting ambient energy to power our daily use tools and create a green environment. Their flagship product, Power Pad, is a low-profile device that sits beneath any moderate to heavy foot traffic location. Each step a passerby takes on the Power Pad generates up to 10 watt-mins of power.
By targeting the commercial building market space in city locations, Touch Light Innovations is able to offer a clean technology product that is designed for city like environments. This product is estimated to save an average commercial building up to $80,000.00 a year on their electrical bill and increase real estate value by 7% each year. The Power Pad has been tested at a Westchester Knicks game as well as in a New York High School for one month.
Learn more about the Touch Light Innovations technology at: http://tli.technology/
BIG Pitch is part of the Business Innovation Group of the Center for Entrepreneurship Learning & Leadership at Georgia Southern University's College of Business Administration.
---
2015 BIG Pitch Winner
Opus 12
Renewable Fuel Production from Carbon Dioxide
Stanford University
---
The $10,000 BIG Pitch Award is given to the undergraduate or graduate student innovation that improves economies, health, and the environment. Nicholas Flanders presented his solution, Opus 12, Sunday, October 11 in Savannah, GA.
Learn more about Opus 12 by watching the pitch video below, or visiting CyclotronRoad.org/opus12/.
BIG Pitch is part of the Business Innovation Group of the Center for Entrepreneurship Learning & Leadership at Georgia Southern University's College of Business Administration.
---
Other 2015 Finalists:
Resource Recovery from Waste Water
A Sustainable Water Treatment/Recovery Process
Virginia Polytechnic Institute and State University
Green Technology Artificial Reefs
Artificial Reefs from Cement and Nutrient Mixtures
Valdosta State University
Surya Conversions
Hybrid Electric Conversion Kits for Auto Rickshaws in Developing Countries
University of Colorado-Boulder
Prosumer Grid
Simulate & Optimize the Operation of Distributed Energy Resources/Grid
Georgia Institute of Technology
NTi Technology
Functional Coating for Self-Disinfection
Cornell University
Cooking with Stored Solar Heat
Maintain Traditional Cooking Methods in the Developing World without Use of Fuel, Flame, & Emissions
University of Illinois Urbana-Champaign
Loop
Biometric System to Upcycle Waste from Meat, Fish, and Bone
Savannah College of Art & Design
---
On-Stage Panelists for Big Pitch 2015

The Honorable Kelly Carnes is the President and Chief Executive Officer of TechVision21 (and 2014 delegate at Ocean Exchange). Before founding Tech Vision 21, Ms. Carnes served eight years at the highest levels of the federal government, first as an aide to the First Lady, and later, as a senior technology policy advisor to four Secretaries of Commerce. Most recently, Ms. Carnes served as Assistant Secretary of Commerce for Technology Policy, a position requiring nomination by the President and confirmation by the U.S. Senate. In this role, Ms. Carnes served as chief executive of the Office of Technology Policy, the federal government's principal advocate for technological innovation. Before her government service, Ms. Carnes was an attorney at a top national law firm where she structured and negotiated more than $1 billion in technology transactions. Ms. Carnes graduated Phi Beta Kappa from the University of North Carolina at Chapel Hill, with a Bachelor of Arts degree. She also graduated magna cum laude from Georgetown University Law School, where she served as Topics Editor for the Georgetown Law Journal.

Jeff Johnson was leader of the Ocean Exchange Solutions Review Team in 2014. He is the Founding Partner of Green & Blue Advisors, an entity currently raising a large investment fund for starts ups in the area of sustainability. He spent the last year as Entrepreneur-in-Residence at Firelake Capital. He previously was a Group VP, Head of Business Development, Marketing, and Customer Solutions at ABB in Zurich, Switzerland. Jeff started his career with various supply chain functions including Supply Chain Management at Intel. He has a Masters of Science in Engineering Systems/Operations Research from MIT and a BS in Industrial Engineering from University of FL.

Mark Schrope began his career working as a chemical oceanographer. After several years at the Virginia Institute of Marine Science, he entered the Science Communications graduate program at the University of California, Santa Cruz. In 1999 he began working full time as a writer and editor with a strong focus on ocean science and issues. As a journalist his work has appeared in publications such as Nature, Scientific American, Outside, The New York Times, The Washington Post, and Scuba Diving. Through his company, Open Water Media, he has worked as an outreach consultant and photographer for clients such as the Scripps Research Institute, Sea Grant, The Living Oceans Foundation, and Duke University. Wearing various hats, he has taken part in oceanographic expeditions around the world on over a dozen research vessels. He is currently applying the skills he developed as both scientists and writer to the identification and evaluation of promising ocean technologies as a consultant for Schmidt Marine Technology Partners, a program of the Schmidt Family Foundation.

Allen Wolf is a Managing Director of OFSCap, LLC. He is also the Principal of CAM Energy, LLC, an energy commodity trading firm specializing in the electricity markets. Allen has over fifteen years demonstrated success in the power sector including power acquisitions, sales of development rights, large scale power project development, sourcing of strategic partnerships, proprietary trading, risk management, and management of physical and financial commodity trading operations in OTC and regional transmission organization (RTO) markets. Allen also has significant experience leading start-up initiatives in corporate and venture capital-backed environment. Previously, Allen was a key member of MetalMaker's executive team, where as VP of Strategic Alliances, he successfully identified and pursued partnerships in the metals industry, leading to a strategic venture investment and solutions implementation agreement with Alcoa. From 1995 to 2000, he held various roles with Enron where he focused on acquisitions, divestitures and restructurings of power generation and gas pipeline infrastructure and led teams to develop large-scale power projects. Earlier in his career, he executed corporate and structured financing transactions in Corporate Treasury at Exxon Corporation and in commercial lending at First Chicago. Allen holds a BA in Finance from University of Illinois and an MBA in Finance from the Wharton School.