DEADLINE EXTENDED!!
The Ocean Exchange Collegiate Award 2023, and the Guy Harvey Foundation Collegiate Award of $10,000 USD each, are given to the solution that advances our understanding of the ocean and that helps minimize our impact on these resources, even while using them for human benefit, resulting in more resilient bodies of water including healthy marine life and coastlines. Download Collegiate Call for Solutions PDF.
Important Dates Collegiate
Register your Solution by 11:59pm GMT on Tuesday, October 3rd, 2023
Exchange Dates: October 22-24, 2023 in Fort Lauderdale, FL
Collegiate pitches will be conducted Sunday, Oct 22nd and Monday Oct 23
Apply to Collegiate Awards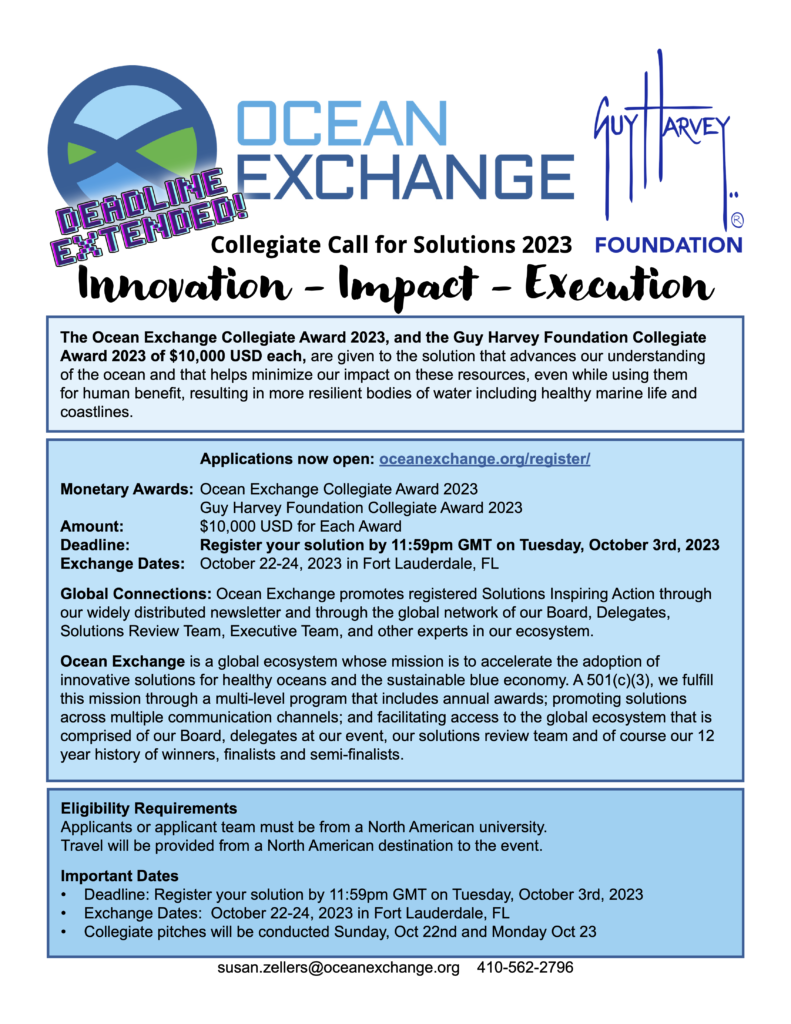 ---
The Ocean Exchange Call for Solutions is now CLOSED for 2023 for the WW Orcelle® Award, the Innovation Award for Transportation and Logistics Hubs, and the Neptune Award of $100,000 USD for Each Award.
Review is now underway! We hope you consider applying next year.
Call for Solutions flyer pdf can be downloaded here. Flyer includes full award definitions, process details and important dates.
Important Dates Three Awards
Register by: 11:59PM GMT – Thursday, August 17, 2023
Exchange Dates: October 22-24, 2023 in Fort Lauderdale, FL