Event Overview
REGISTRATION IS NOW OPEN
October 28-30, 2019 in Fort Lauderdale, FL
Venue: Greater Fort Lauderdale and Broward County Convention Center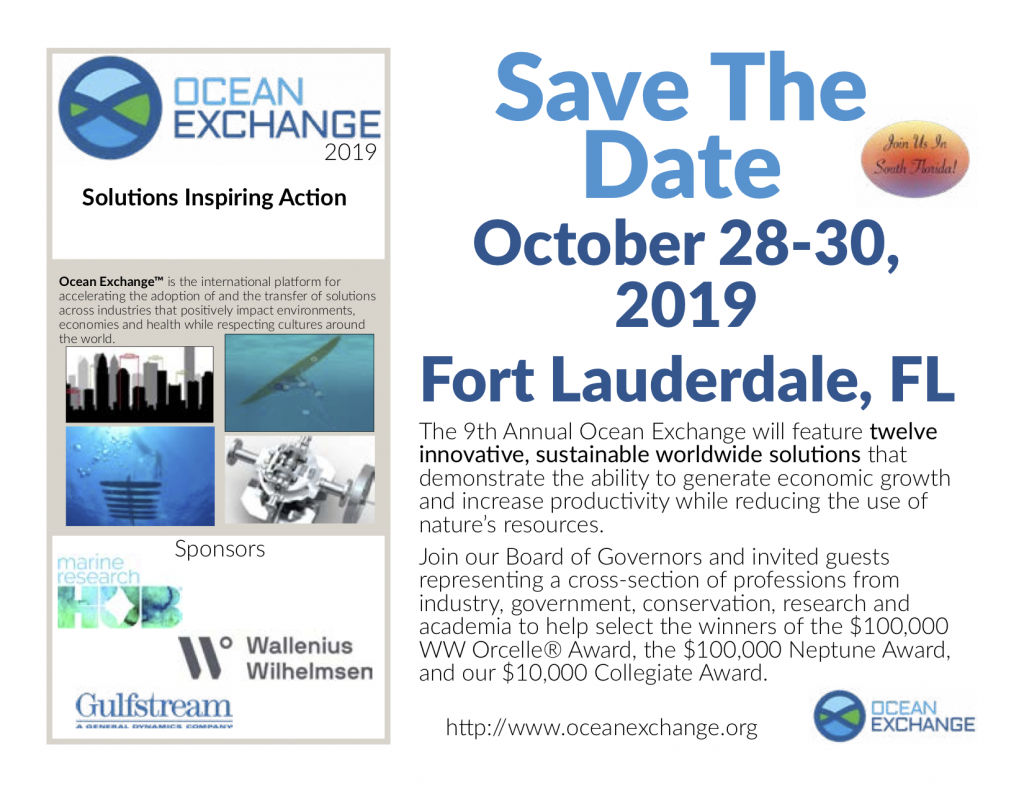 ---
Ocean Exchange seeks innovative, proactive and globally scalable Solutions with working prototypes that can leap across industries, economies and cultures. Following a Call For Solutions, selected solution creators will be invited to Fort Lauderdale, Florida to present their work.
Our Board of Governors and invited guests representing a cross-section of professions from industry, government, conservation, research and academia will select the WW Orcelle® Award and new Neptune Award Winners. We also host a collegiate level competition.
---
See below for more info on our past finalists.
Learn more about the 2018 Orcelle® and Neptune finalists
Meet our Collegiate Competition 2018 finalists
You can find us on twitter at @TheOceanExch, or in our LinkedIn group to get the latest news in advance of the event.
---
Ocean Exchange is the intersection where organizations from around the world advance and promote their cutting edge solutions and innovations in materials, devices, processes, and systems. We have created the knowledge-based catalyst for organizations to achieve Corporate Social Responsibility Goals.
By connecting innovators and organizations, The Ocean Exchange empowers the successful application of solutions for the greater good.
We are advocates for innovators. We are advocates for collaboration across industry and geography, while protecting the intellectual property of the innovator.
Ocean Exchange promotes innovative organizations and entrepreneurs who are implementing tangible solutions that shape the future today. We invite you to register your solution!