Event Overview
Please join us for Ocean Exchange 2022, October 23-25th in Fort Lauderdale, FL. We will host finalists for the WW Orcelle® Award, the Neptune Award, and the new Innovation Award for Transportation and Logistics Hubs, in addition to collegiate level finalists.
The event will be held at the NOVA Southeastern University Museum and the Hyatt Centric in Fort Lauderdale, FL.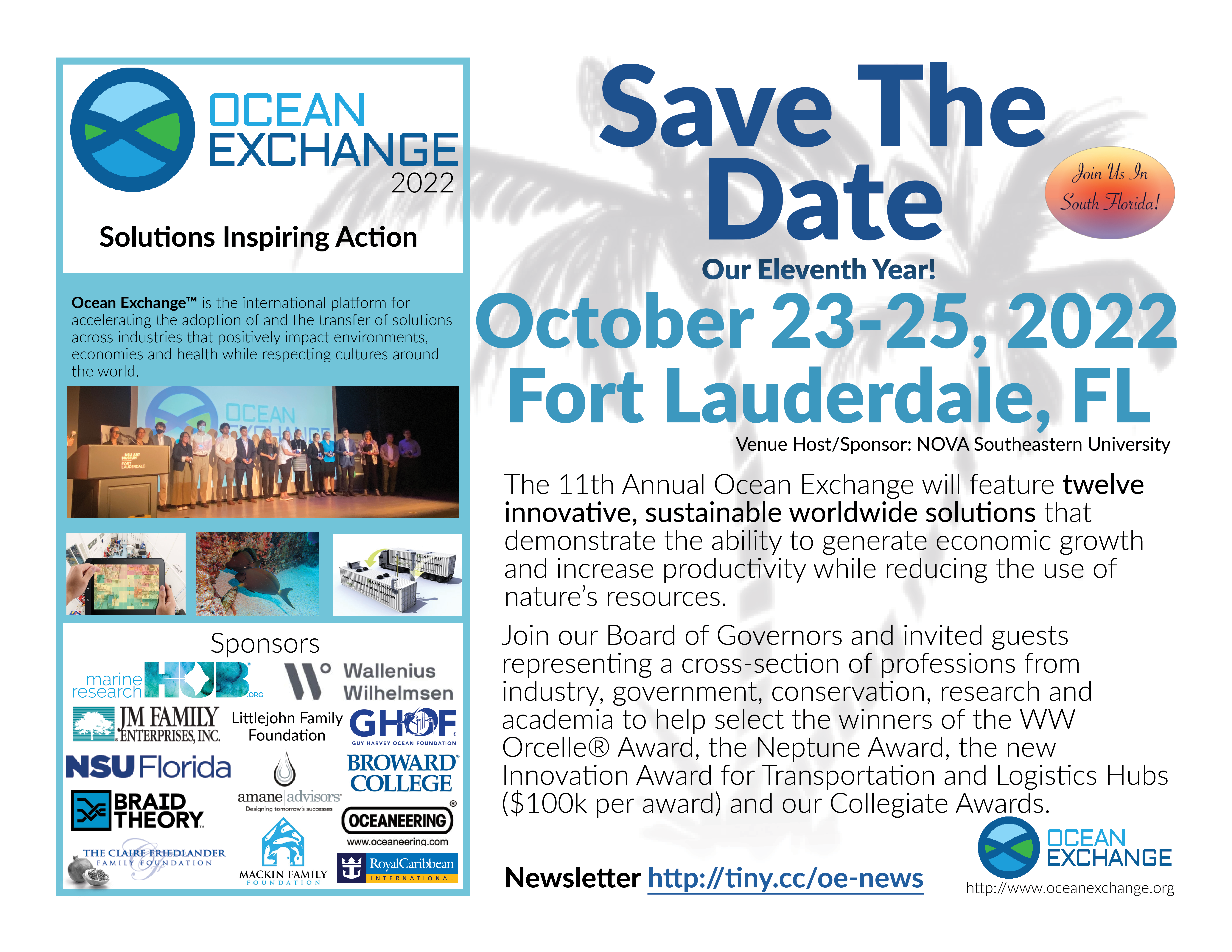 ---
Ocean Exchange is a global ecosystem whose mission is to accelerate the adoption of innovative solutions for healthy oceans and the sustainable blue economy. A 501(c)(3), Ocean Exchange fulfills this mission through a rigorous, multi-level program that includes annual monetary awards, promoting registered Solutions Inspiring Action across multiple communication channels, and facilitating access to the global network comprising its Board of Directors, Delegates, Solutions Review Team, Executive Team and other experts from around the world.
The 11th Annual Ocean Exchange will feature innovative, sustainable worldwide solutions that demonstrate the ability to generate economic growth and increase productivity while reducing the use of nature's resources.
Join our Board of Governors and invited guests representing a cross-section of professions from industry, government, conservation, research and academia to help select the winners of the $100,000 WW Orcelle® Award, the new $100,000 Innovation Award for Transportation and Logistics Hubs, the $100,000 Neptune Award, and our $10,000 Collegiate Award.
---
You can find us on twitter at @TheOceanExch, or in our LinkedIn group to get the latest news in advance of the event.
We also invite you to subscribe to our newsletter!