By Iris Tzur, Head of International Relations and Marketing at the Israeli National Center of Blue Economy
Blue Tech Advancements Reach One-Year Milestone in Israel
Israel, a high-tech powerhouse situated at a naval crossroads, began earnestly combining these assets just last year with the launch of the Israeli National Center of Blue Economy. Let's delve into our Blue Tech accelerator program, international partnerships, and the inaugural global Blue Tech Summit held at the Port of Haifa.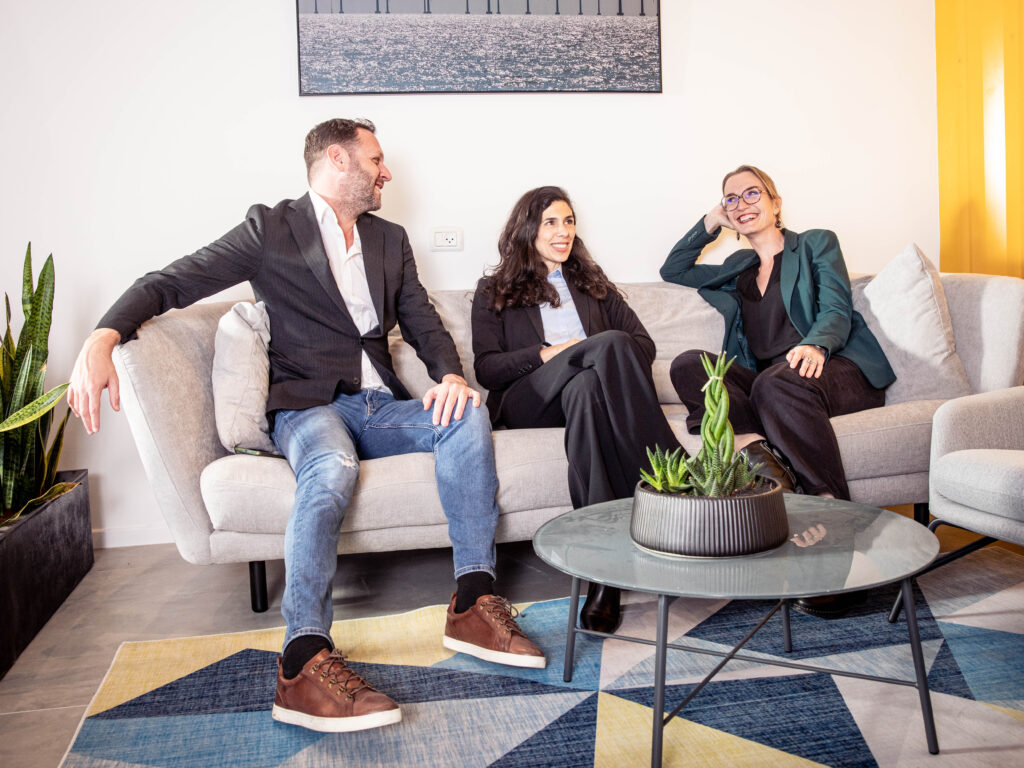 The Israeli National Center of Blue Economy team. Left to right Omri Shamir – Hila Ehrenreich – Iris Tzur. Credit Orly Eyal Levy
Embarking on Blue Tech Advancements
At the heart of our mission is the convergence of startups, investors, the industry, and government to cultivate the Blue Economy in Israel and coordinate the Israeli Blue Economy internationally.
A prime example of our commitment is the Blue Tech Program, a platform through which we invest in promising enterprises, raise funds, and provide tailored growth solutions. Our portfolio currently comprises 13 startups, with the eagerly anticipated launch of a second batch of 15 startups early next year. The process of scouting and interviewing startups has revealed an inspiring convergence of remarkable technologies and visionary entrepreneurs that surpass our wildest expectations.
Let's consider two examples:
WATCHIT: Pioneering skipper assistance solutions, WATCHIT employs boat sensors and AI algorithms to prevent collisions at sea, enhancing safety and minimizing damage. Think of them as the MobileEye of the oceans!

Bomvento: BomVento's innovative approach combines wind turbines and photocatalysis to generate clean energy and reduce greenhouse gases.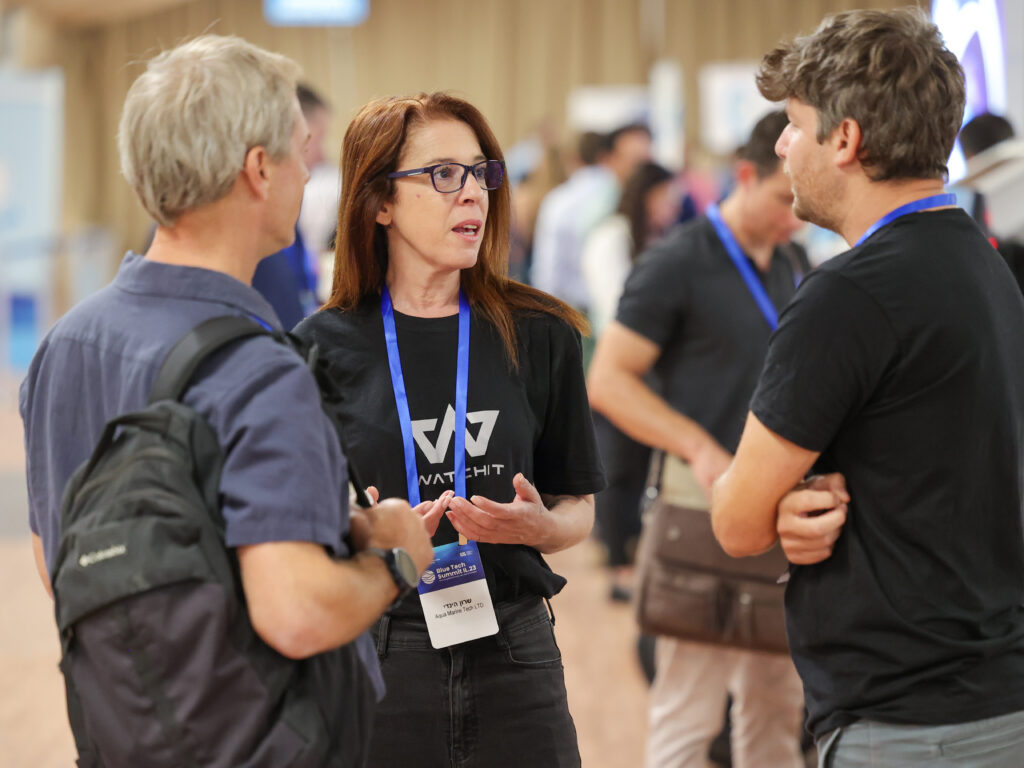 Part of the WATCHIT team at the Blue Tech Summit IL.23. Credit: Ronen Topelberg
Fostering Collaborative Partnerships
In an interconnected world, cultivating the Blue Economy demands collaborative efforts. Accordingly, we actively engage with international governmental bodies and organizations to effect meaningful change. Our Memorandums of Understanding (MoUs) with India, as well as South Korea, underscore our commitment to cross-border collaborations. Additionally, we've established partnerships with the UN's SwitchMed program, which champions circular economy initiatives in the region. Further afield, we've solidified collaborations with European countries such as the Netherlands and the UK. Of course, we are also hands-on in connecting companies in different countries. Our recent partnerships with companies like Royal Caribbean and Carnival Group are promising. These alliances aim not only to bolster startups within these nations but also to facilitate their expansion beyond borders.
Blue Tech Summit IL.23
A standout moment this year was undoubtedly the Blue Tech Summit IL.23: Advancing Blue Economy with Tech Innovation. The summit offered a deep dive into all things Blue Tech, captivating participants throughout the day. Featuring 40 international expert speakers, an Innovation Hub showcasing 30 startups, and over 300 attendees, the event encapsulated the dynamism and promise of the Blue Tech landscape. For a taste of the summit's highlights, check out the video below.
Key Takeaways for a Thriving Blue Future
We find ourselves in an era of astounding technological feats, and it's crucial that we provide the necessary resources for companies pioneering these technologies. Collaborative efforts across borders are a wellspring of potential. Israel's renowned high-tech sector and flourishing startup culture are what we bring to the table. By forging connections with international counterparts, such as Norway and the Netherlands with their rich marine traditions, and India and Angola with their expansive coastlines and entrepreneurial drive, we can synergize strengths for optimal results.
As the Blue Tech momentum continues to surge, let's harness groundbreaking technologies and work collectively to ensure the health and cleanliness of our oceans while nurturing a thriving economy. Together, we can forge a path toward a sustainable and prosperous future.
Here's to many more years of innovation and progress in the Blue Economy!

Iris Tzur is Head of International Relations and Marketing with the Israeli National Center of Blue Economy. She is an ex-Googler with 17 years of international experience in marketing and communications in the areas of tech, sustainability, and government.
September, 2023