By Dr Thomas Manning, VSU Professor of Chemistry
If we were to form a company to commercialize our work it would be called Marine Biofilms, Inc.  Our students made it to the finals at Ocean Exchange for their work with (i) a novel method to restore oyster populations (ii) a unique method to synthesize pharmaceuticals in the ocean (iii) an antibiotic that worked against drug resistant Tb (US Patent 10335374).  Our tremendous experience with Ocean Exchange helped refine our fundamental studies to be products that could go to market.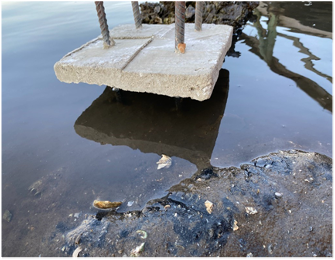 Oysters are a keystone species for marine life, from fisheries to crabs.  In addition, a single oyster can filter up to fifty gallons of water per day, and a living oyster bar prevents shoreline erosion.  Worldwide oyster populations are down almost 90%, which is having a terrible impact on our coastal ecosystems, from the Pacific Rim to the Atlantic coastline.  While many restoration efforts use existing oyster shells, there is a finite supply, and there is no guarantee there will be spat (larvae) in the water column in a specific location.   We've developed a method to grow a biofilm on a surface that releases a natural chemical cue to attract the larvae, and forms the biofilm they require.  We can start the growth process in one location (high larvae count) and later move to an area where restoration is needed.  We currently have permits from the state of Florida and the USACE for this work. In addition to the concrete composition, there are important geometric aspects (left; before and after: right: 4 weeks in and the surface has dozens of young oysters).  We also had a permit for coral restoration in the Florida Keys but Hurricanes Irma and Ian had something to say about that location.  The oyster work is in collaboration with Gulf Specimen Marine lab (Panacea, Fl.).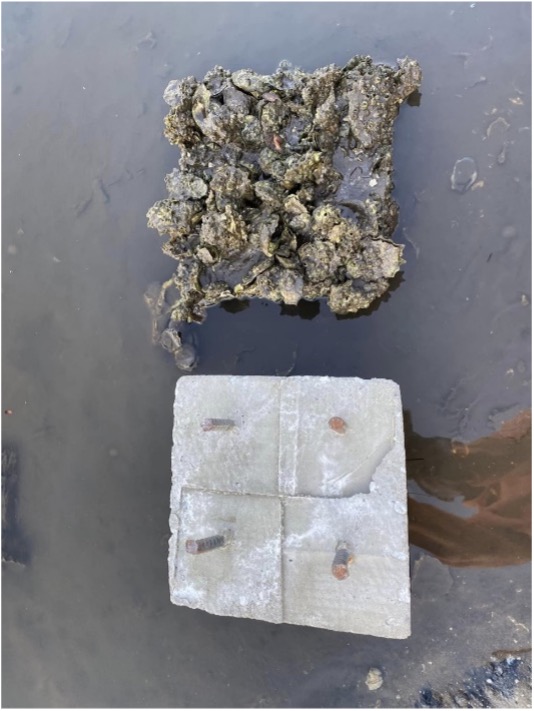 2. Did you know that one mL of healthy seawater can have 10 million viruses and 1 million bacteria? In some cases, the viral load can be up to 200 million.  Most of the viruses are phages and are incessantly attacking the bacteria, and the bacteria repel them with a chemical defense system.  We have developed a method to capture this chemical defense system in the ocean (1).  Considering there are billions, if not trillions, of bacterial species in the world oceans, this promises to be a treasure chess of new medicines.  We have had two molecules accepted for preclinical trials for testing against cancer; and currently one of our drugs is being tested against 15 different viral strains responsible for infectious diseases.
There is a rule of thumb that 99% + of marine microbes are difficult or impossible to grow in a lab.  Another ROT is that there are billions or trillions (??) of bacterial species on the ocean, with over 99% + yet to be discovered!  We believe microbial growth has to take place in the ocean and not the lab.
A thought experiment related to our pharmaceutical aquaculture approach. Imagine a steel cable, starting at the surface, that is over 7 miles long, and is secured to the bottom of the Marinas trench. Every 500 feet a attached perforated steel container that contains one of our biofilm blocks, attracts microbial colonies. It is left in place for two or three months and the biofilm blocks retrieved. From top to bottom, there are multiple microbial ecosystems studied, collecting an untold number of new microbes and their chemical systems. There are new chemical structures, and not just for medicine. There might be new proteins and small molecules involved in energy conversion; new catalysts for biological processes; new polymers for green plastics; etc.
To quote one of my idols; "The future is in the hands of those who explore… and from all the beauty they discover while crossing perpetually receding frontiers, they develop for nature and for humankind an infinite love." Jacques Yves Cousteau
Dr. Thomas Manning is a professor of chemistry at Valdosta State University. Dr. Manning has taught Instrumental Analysis, Environmental Chemistry, Physical Chemistry I, Marine chemistry, Research classes and different 1000 level classes and labs. His primary research interests are drug development related to the treatment of cancer, bacterial and viral infections and neurological diseases. His undergrad group has 20 novel complexes that have entered pre-clinical trials at the National Cancer Institute, developed and patented a drug that works against Multidrug Resistant Tb, and has recently published novel treatments for COVID19. He also has active projects for oyster and coral restoration. He can be reached via tmanning@valdosta.edu.
---
(1) https://www.noaa.gov/interagency-ocean-policy/2022-sost-opportunities-and-actions-roundtable/pioneering-pharmaceutical-aquaculture-drugs-from-sea