Register Solutions for our 2022 Collegiate Awards
Ocean Exchange is pleased to announce the return of the Ocean Exchange Collegiate Award for 2022. See the flyer (below right) for all the details, and apply via the blue button below.
---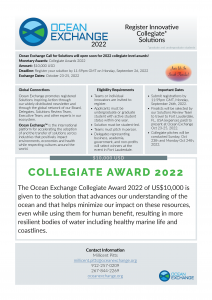 The Ocean Exchange Collegiate Award 2022 of $10,000 USD is given to the solution that advances our understanding of the ocean and that helps minimize our impact on these resources, even while using them for human benefit, resulting in more resilient bodies of water including healthy marine life and coastlines.
Submit registrations by 11:59pm GMT, Monday, September 26th, 2022.
Finalists will be selected by our Solutions Review Team to travel to Fort Lauderdale, FL, USA (expenses paid) to present at Ocean Exchange Oct 23-25, 2022.
Collegiate pitches will be conducted Sunday, Oct 23th and Monday Oct 24th, 2022.
Eight finalists will be invited to present at Ocean Exchange in Fort Lauderdale, FL October 23-25 2021, in front of 150 delegates from business, NGOs, academia, and government. Delegates vote on who receives one $10,000 cash award. Learn about our past winners here.
Please connect with us! Find us on LinkedIn and Twitter. Don't hesitate to contact us with questions about the competition.
Ocean Exchange is an international non-profit with a mission to help advance the adoption of transformative solutions that support sustainability. To view our sponsors please visit: http://www.oceanexchange.org/about/sponsors/
Apply