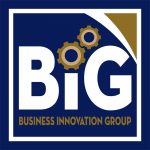 Call for Solutions from Collegiate Innovators is now closed for 2017.
---
Seeking Undergraduate & Graduate Innovations That Improve Economies, Health, and the Environment, fitting under the Theme of Sustainability. Award: $10,000 cash
Eight finalists will be invited to present at Ocean Exchange in Savannah, GA, October 8th in front of 150 delegates from business, NGOs, academia, and government. Delegates will vote who receives one $10,000 cash award. Learn about our prior winners here.
Please connect with us before the event! Find us on LinkedIn and Twitter. Don't hesitate to contact us with questions about the competition.
---
BIG Pitch is part of the Business Innovation Group of the Center for Entrepreneurship Learning & Leadership at Georgia Southern University's College of Business Administration.
Ocean Exchange is an international non-profit with a mission to help advance the adoption of transformative solutions that support sustainability. To view our sponsors please visit: http://www.oceanexchange.org/about/sponsors/