Phil Beierl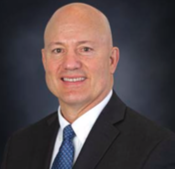 Senior Vice President – Advanced Technologies
Phil Beierl is the Senior Vice President of Advanced Technologies (ADTECH) within Oceaneering International, Inc. and has broad responsibility for non-oilfield business. ADTECH provides mission critical solutions in Defense, Space and Mobile Robotics and has annual revenue of $375MM with over 1300 employees in five divisions:
Space Systems (OSS) – designs and builds systems for human space flight, satellites, and robotics
Marine Services (MSD) – performs installations, alterations and repairs on U.S. Navy submarines and deep submergence systems
Oceaneering Technologies (OTECH) – designs, builds and operates unique subsea robotic systems for the U.S. Navy
Entertainment Systems (OES) – designs, builds and installs ride vehicle systems and complex animatronics for the theme park industry
Oceaneering AGV Systems (OASYS) – provides integrated Automated Guided Vehicle (AGV) systems for industrial applications including automotive assembly, warehousing, and hospitals.
Mr. Beierl joined Oceaneering in 2005 as a program manager and served in various positions within OTECH before taking over as Vice President and General Manager in 2014. Most recently he served as ADTECH Vice President for Operations before promotion to his current position at the beginning of 2018. Prior to joining Oceaneering Mr. Beierl served as an officer in the U.S. Navy for over 25 years. He specialized in diving, salvage and ordnance management and commanded various ships and shore stations. He earned degrees from MIT, Naval Postgraduate School and the Naval War College.